I was going to have a really good day today. It's been a while. We were going to take Matt to work, get cappuccino and come home and I was going to do absolutely nothing important, just whatever I felt like for the first time in at least two months.
Matt bundled Moya up in the car while I got settled in and then he called me over to his side of the car. There was our cat. Lying on her side looking perfectly normal but very obviously dead. She would have been eleven in March.
I got her when she was four months old, Sept. 10th, 2001, and spent the better part of the next year and a half breaking down all the walls she'd put up after being in the abusive home I took her from. As much as I loved that cat... she chose me. The first time I picked her up she wrapped her front legs around my neck as much as she could and hung on for dear life. She was so afraid I was going to hand her back. She hid under my seat on the drive home and slept with me, under the covers, that night. Breaking news about terrorist attacks woke us the next morning.
It was slow going getting her to use a litter box, cats that have their paws mutilated tend to not like digging in fine, sharp gravel funnily enough. But I was patient and she was smart and with a lot of treats by November she was using it without fail.
She kept me company on the long two hour drives to visit my parents, tucked into her carrier on the front seat, facing me so she wouldn't get scared. But she was always good on car rides. Until the last half hour when, after being asleep, she'd feel the need to remind me that she was there and curl her paw into a fist so she could punch me in the arm. Literally. She never swiped, she always curled her paw and punched. I thought it was the funniest thing.
And then Matt was finally allowed into the country. We got home late that night but the moment he flopped onto the couch Sasha was in his lap, rubbing and purring and sniffing (she always sniffed so loud you could hear it). He asked me: "Is this my cat?" She liked him and I knew that meant something; he was the only person other than myself that she had ever warmed to in the three and a half months that I'd had her. It took almost a year and a half for her not to hide when other people were around.
In that year and a half I
almost
got her over her fear of brushes. She did get over her fear of raised voices, loud noises and also needles by watching me get my shots every day; at the very start whenever she'd see me try to get one she'd try to get the needle away from me. And not so she could play with it. Eventually she realized it wasn't a bad thing. She even learned the schedule for my shots & snacks and if I was late she would let me know. When my blood got particularly low she would sit and watch me eat, never begging for food, just making sure I ate until she was satisfied I'd had enough. And if she thought I needed more, she'd let me know.
In 2004 my sister nearly died in a car crash. She needed someone to take care of her Chinchilla while she healed and ended up asking me to keep him. It was love at first sight. Sasha would sleep on a chair pushed right up against his cage and he would sleep wedged into that corner, against her as much as he could be. She'd flip her tail into his cage for him to play with. And when he was out he always ran straight for her; they'd curl up and sleep together in front of the tv. And on Friday nights when I watched Doctor Who, I'd have them both curled into me.
When Martin finally died Sasha wandered the apartment looking for him for weeks. She kept checking his cage and his toys, his favorite places. Eventually she understood and I couldn't really fault her when she acted out for a little while.
But life goes on and soon enough we made a new one. She, of course, knew I was pregnant before anyone else and spent the next nine months camped out on my ever growing belly. She'd never been happier. Or more comfortable! But she wasn't quite sure how to react when this tiny, wrinkly thing was brought back to the house. Whenever Moya cried, which wasn't all that often, Sasha was right there in spaz mode; worried and wanting it fixed. She didn't like Moya at first but it wasn't long before I had them both in my lap. Until Moya began crawling. And for a while Sasha didn't like her again. And then walking happened and suddenly they were best friends.
First thing in the morning, after a nap, upon entering the house Moya would go to find Sasha. If Sasha wasn't tucked into her room and Moya was in hers the cat was always right at Moya's door waiting for her to get up. We'd have to tuck her away at lunch and supper because it was far too tempting to sit under Moya's chair and let Moya lean over to share her food. Meaning Sasha got all the food because having a cat eating out of your hand is apparently the funniest, tickliest, most interesting thing EVER.
I am not a cat person. I have never been a cat person. Not that I don't like them, I do. And I've always had them but I am a dog person through and through. But Sasha was different. She was loyal and affectionate and yes, to a point, clingy. She was smart and she was beautiful. She was the softest thing I ever touched. She had no balance and very little grace, got embarrassed easily, didn't meow for the first two years that we had her, had issues with the litter box off and on and was the master bug hunter. And for a very long time she was the only friend I had. When I was left alone with nothing to do for so many years, uncertain as to why my husband wanted nothing to do with me I had her. She loved me when no one else did, she wanted me around when I was too boring, or too married, too much a mom or just too damned responsible and adult for anyone else. Life would have been so lonely and so very boring without her. No matter how awful things were I always had her.
But not today. Today my lap is empty and my ankles cold. Today Moya is watching Sesame Street curled up on the loveseat alone, no gray ball of fuzz to fight over the throw blanket with. Today the food bowl is full, the littler box untouched, the window empty. Today no one will warm my lap, purring happily while I have my tea in front of the tv while Moya takes her nap.
Today Sasha is gone.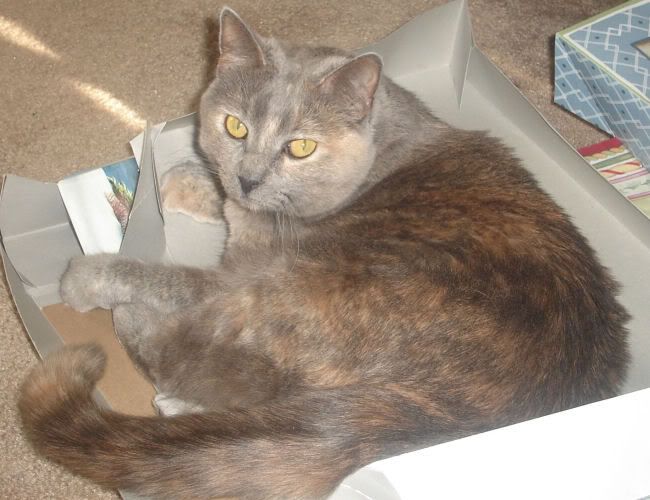 Current Mood:
depressed